We've reviewed some truly great toasters and toaster ovens, but let's be honest, most people don't want to spend a lot on a toaster. Good news, because you don't have to. For under fifty bucks, you can toast, bake, and broil your way to a whole new level of breakfast making.
Our top pop-up toaster pick for under $50 is the Black + Decker 2-Slice Toaster (available at Walmart) which can hold its own against any model on the market.
The best toaster oven under $50 is the Hamilton Beach Easy Reach Oven with Convection (available at Amazon for $47.00).
To find these great buys, we tested 14 models, toasting up a whole lot of white bread and bagels, heated frozen pizza, baked biscuits, and broiled chicken.
Updated February 16, 2018
Black & Decker 2-Slice Toaster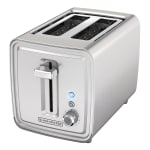 Black & Decker 2-Slice Toaster
Best Value: Toaster
The incredibly affordable Black + Decker 2-Slice Toaster Model #TR2900SD browned and crisped bread as evenly as toasters more than triple its price. When we toasted five batches one after another—as you might when you have a crowd over for brunch—every slice came out looking exactly the same.
Although it probably won't win a design award, with its clean lines and brushed stainless-steel finish, the B + D will look spiffy in any kitchen. To select your shade, you turn a small dial and you do have to look close to make out the numbered settings. It has both bagel and frozen buttons.
Hamilton Beach 6 Slice Easy Reach Toaster Oven with Convection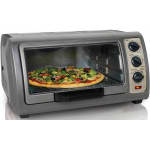 Hamilton Beach 6 Slice Easy Reach Toaster Oven with Convection
Best Value: Toaster Oven
The Hamilton Beach Easy Reach Oven with Convection won't take up the space that more expensive toaster ovens do, while still delivering excellent toasting and baking. In addition, the door rolls back, making it exceptionally easy to put in and take out food. It also means more room on the countertop in front of the oven and a slimmer chance of getting burned. (On all toaster ovens, the door gets very hot to the touch.)
Of all the toaster ovens we tested, it was the fastest at toasting bread, with times fairly similar to a pop-up toaster. Biscuits come out as high, flaky, and golden as if you made them in the oven—and faster, too.
While you can broil in the Hamilton Beach, don't expect much browning. What you also don't get at this price: electronic controls. To operate, you pick a setting and turn a mechanical timer. The times aren't precise but you do see the minutes counting down. While the timer only goes to 30 minutes you can choose the "Stay On" option. If you use it, remember to turn the oven off when your food is done. A lightweight aluminum baking pan is included.
Cuisinart 2 Slice Compact Plastic Toaster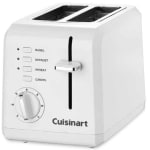 Cuisinart 2 Slice Compact Plastic Toaster
The basic white Cuisinart 2 Slice Compact Plastic Toaster proves you can get beautiful design at a rock-bottom price. In particular, we love how the gray lettering on the controls really pops against the light background, so it's super easy to choose your setting. It was among the fastest at toasting, popping up dark toast in under 3 minutes. When we toasted five 2-slice batches in a row on medium, it turned out ten slices of identical toast in about 6 minutes—perfect for when you're making BLT's for a posse of backyard ball players! While it did a beautiful job of toasting a bagel on the bagel setting, we found a fat New-York style bagel fit tightly in the slots and neither bagels or English muffins popped up high enough to grab without raising the lever for an extra lift. There's also defrost and reheat features.
Hamilton Beach Keep Warm Toaster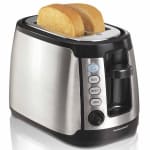 Hamilton Beach Keep Warm Toaster
You just can't beat the price on the Hamilton Beach Keep Warm Toaster. Although it's not a looker, you don't sacrifice at all when it comes to getting a perfectly browned piece of bread or a bagel. This was one of the few that turned out five matching batches of toast, one after the other. When you're making a small item like an English muffin you'll have to remember to use the lever to raise it above the hot slots. Its bagel, defrost, and keep warm buttons are very well marked so they're easy to select.
Oster 2-Slice Toaster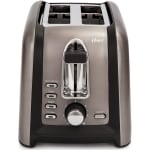 Oster 2-Slice Toaster
The big news in large kitchen appliances is black stainless steel: a softer, easier-to-clean finish than gleaming stainless steel. To ride the trend without spending a few grand to replace your fridge, consider the Oster Black Stainless Collection 2-Slice Toaster. Naturally, we wouldn't include it here unless it was also great at toasting bread. When you're toasting small items like English muffins, you will have to use the toast lift to grab them without risking burnt fingertips. In addition to bagel and frozen settings, it has a "Quick 30 Sec" button if you want your toast just a little bit more well done.
Black & Decker 2-Knob 4-Slice Toaster Oven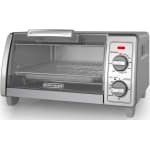 Black & Decker 2-Knob 4-Slice Toaster Oven
The Black + Decker 4-Slice Toaster Oven is a real bargain—after all, you can barely buy a pop-up toaster at this price. It's also not much bigger than a toaster, which makes it good for anyone with limited space. While it won't give you the functionality you get from bigger, pricier models, you can still depend on it for toast, baked goods, and broiled foods. To start heating, you turn a count-down mechanical timer. If you're cooking something that needs more than its 30-minute limit, you can select a stay on mode but have to remember to turn it off.
The B + D comes with a lightweight aluminum baking pan. However, when I baked refrigerated biscuits, I was only able to fit six, as opposed to the standard eight that come in a package.