Sometimes you want the simple things, like a piece of perfectly browned toast. But if you're in the market for a new toaster, you may be surprised to learn that's not as easy to get as it sounds. Bells and whistles abound, but the bottom line is that not all toasters can pop up a slice of toast precisely to your liking. We tested eight top-sellers and our favorite is the Breville Die-Cast 2-Slice Smart Toaster (available at Amazon).
The Breville doesn't come cheap but the even toasting and solid build, plus some special features, make it an absolute pleasure to use. If you don't care about fancy extras we have a budget pick as well, the Black + Decker 2-Slice.
To find the best bang for your buck, we spent more time than you can imagine deliberating about the color of toasted bread, the perfect setting for bagels, and gauging just how difficult it is to grab the smaller half of an English muffin out from between toaster slots. (Or jump over to our toaster oven recommendations for something more robust.)
Here are the best electric pop-up toasters in order:
Breville Die-Cast 2-Slice Smart Toaster
Black + Decker 2-Slice Toaster Model #TR2900SD
Cuisinart 2 Slice Compact Plastic Toaster
Hamilton Beach Keep Warm Toaster
KitchenAid 2-Slice Toaster with High Lift Lever
Oster Black Stainless Collection 2-Slice Toaster
SMEG 2 Slice Toaster
Dualit 2 Slot NewGen Toaster
Updated February 14, 2018
Breville Die-Cast 2-Slice Smart Toaster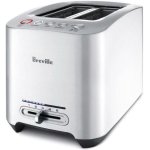 Breville Die-Cast 2-Slice Smart Toaster
Best Overall
It's more than top-notch toasting of bread and bagels. The Breville Die-Cast 2-Slice Smart Toaster might actually make you say "I love my toaster" in casual conversation. Taking it out of the box, the first thing you'll notice is its weight, due to the solid metal housing. Making a product heavier to connote "quality" is an old trick, but in this case it's accurate.
It's the little things that make this toaster stand out. You push a button to start toasting rather than pushing down on a lever. The bread lowers and rises in theatrically paced movement. You select your setting by sliding a button on an LED-lighted control.
Breville did an outstanding job designing a toaster that can accommodate itself better to your life in the kitchen. Press "Lift & Lock" button if you want a quick peek. Toast needs a bit more time? Hit the "A Bit More" button. That's what it actually says. When your toast is done, it beeps. And and the beep can be made louder or muted. Like most Breville products, the electrical cord has a circle behind the prongs that makes it easy to remove from a socket.
It's pricey, but we recommend it if you want the best.
Black & Decker 2-Slice Toaster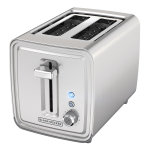 Black & Decker 2-Slice Toaster
Best Value
You don't have to spend a bundle to get your toast just the way you like it. The Black + Decker 2-Slice Toaster Model (#TR2900SD) browned and crisped bread as evenly as models more than triple its price, making it our best value. When we toasted 5 batches one after another—as you might when you have a crowd over for brunch—every slice came out looking exactly the same. To select your shade, you turn a small dial and you do have to look close to make out the numbered settings. It has both bagel and frozen buttons.
It's unlikely that anyone who sees it is going to say, "Wow! Where'd you get that toaster?" But with its unadorned brushed stainless-steel casing, the B + D is unobtrusive and will fit in nicely even in a newly renovated kitchen.
Who am I?
Hi, I'm Sharon Franke, and I've been reviewing kitchen equipment for the past 30 years. In addition to testing and writing about everything from bagels slicers to bread machines, I'm a passionate home cook. Before I became obsessed with cooking appliances and tools of all kinds, I spent seven years working as a professional chef in New York City restaurants. While I'm always on the lookout for the newest recipes and restaurants to try, when I'm cocooning at home, more often than not, it's a toasted bagel that's on my plate.
How we tested
We tested eight 2-slice pop-up electric toasters. Each appliance was rated first and foremost on how well it toasts bread. Could it produce a range of shades and toast evenly enough that all 4 sides come out looking the same? When you make batch after batch does each one come out the same or start getting darker? How does it do on the bagel setting?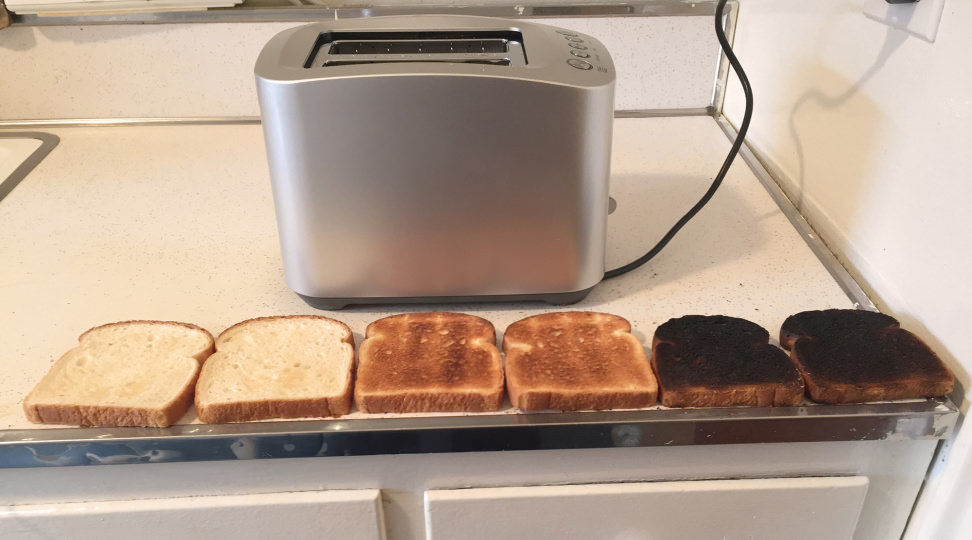 Of course, we also considered the experience of using the product, including how easy it was to set the controls and the convenience of the special features. Since all the toasters got too hot to touch around the slots, whether or not English muffins and bagels popped up high enough to grab without burning your fingers was an important factor. We also evaluated how well each toaster was constructed. And while we didn't include appearance or size in our ratings, we took them into consideration, as this is one appliance that will almost certainly live on your countertop.
Other toasters we tested
Cuisinart 2 Slice Compact Plastic Toaster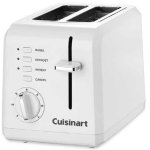 Cuisinart 2 Slice Compact Plastic Toaster
In spite of its rock-bottom price, the Cuisinart 2 Slice Compact Plastic Toaster in basic white is beautifully designed. We love how the gray lettering on the controls really pops against the light background, making it super easy to choose your setting. It was very fast, serving up dark toast in under 3 minutes. When we toasted five 2-slice batches in a row on medium, we got ten slices of identical toast in about 6 minutes. How great when you're making BLT's for a bunch of hungry kids! While it did a beautiful job of toasting a bagel on the bagel setting, we found a fat New-York style bagel fit tightly in the slots and neither bagels or English muffins popped up high enough to grab without raising the lever for an extra lift. There's also defrost and reheat features.
Hamilton Beach Keep Warm Toaster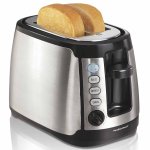 Hamilton Beach Keep Warm Toaster
Although it's not a looker, you can't beat the price on the Hamilton Beach. And you don't sacrifice at all when it comes to getting a perfectly browned piece of bread or a bagel. This was one of the few that was able to turn out 5 matching batches of toast one after the other. When you're making a small item like an English muffin you'll have to remember to use the lever to raise it above the hot slots. Its bagel, defrost, and keep warm buttons are very well marked so they're easy to select.
KitchenAid 2-Slice Toaster with High Lift Lever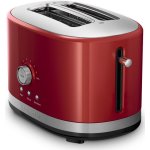 KitchenAid 2-Slice Toaster with High Lift Lever
Available in glossy red, black, or silver, the KitchenAid 2-Slice Toaster with High Lift Lever is a stunner. It's also sturdy, heavy, and has settings that click into place when you turn the dial. We got perfectly even toasting and, of all the toasters we tested, the KitchenAid was the fastest. However, we didn't see much difference between the medium and dark settings. If you're a dark rye lover you may find yourself giving it an extra cycle. When you're toasting smaller items like English muffins and bagels, you'll have to use the high lift lever to raise them above the slots or risk singeing your fingertips. You'll find lots of features on this one: Bagel, defrost, reheat, and keep warm.
Oster 2-Slice Toaster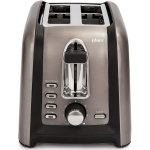 Oster 2-Slice Toaster
The latest thing in large kitchen appliances is black stainless steel: a softer, easier-to-clean finish than gleaming stainless steel. If you want to capitalize on the trend without swapping out your fridge, consider the Oster Black Stainless Collection 2-Slice Toaster. Naturally, we wouldn't be writing about it here unless it was also great at toasting bread at all shades. When you're toasting small items like English muffins, you will have to use the toast lift to grab them without risking burnt fingertips. In addition to bagel and frozen settings, it has a "Quick 30 Sec" button if you want your toast just a wee bit more well done.
Smeg 2 Slice Toaster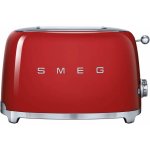 Smeg 2 Slice Toaster
If you're looking for a conversation piece, the Smeg 2 Slice Toaster is your pick. It comes from the Italian company's '50s Retro Style line. It sports the glamour of a mid-century Maserati and is just as likely to make heads turn. The finish (available in in red, pink, pastel green, black, white, cream, and chrome) is as thick and rich as on a sports car. When you shift a gear—excuse me, a setting—it locks into place firmly. As you would expect for the price, you get excellent toasting. Its features reheat, defrost, and bagel settings.
Dualit 2 Slot Newgen Toaster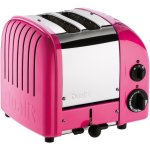 Dualit 2 Slot Newgen Toaster
I'll say it right up front: If you're looking for perfect toast or an easy-to-use model, the Dualit NewGen 2 Slice Toaster, is not for you. On the other hand, if you want a solidly built product that doesn't come from China, this pricey, made in the U.K. toaster might be worth a look. Its industrial design has made it the darling of home magazines.
Now on to the bad news. To begin with, it's considerably higher and wider than your typical 2-slice model. There are only two settings on the mechanical timer: "2" and "3." Setting "3" results in heavy smoking and charred bread, so we suggest you stick with "2." Once you make one batch of golden brown toast, the toaster gets so hot that the next ones smoke and burn. No pop up here. You lower and raise your bread with a completely unintuitive lever: Lift it up when you want bread to go down and press it down to bring toast up.
Perhaps bagels are not a thing in the UK. Not only does it toast them unevenly, but it leaves one side cold and the lever has trouble lowering and raising them. There is a defrost option which thaws but doesn't automatically start toasting as it does on all the other ones we toasted. At least it's colorful. The NewGen is svailable with side panels in 21 different colors.