Nothing beats the versatility of toaster ovens. In addition to making toast, they can melt cheese on open-faced sandwiches, heat and crisp up a frozen pizza, or bake up a sheet of cookies. I've found the best ones can even turn out a roast chicken or broiled salmon as well as a full-size oven. In our review, we found toaster ovens are getting faster and better at toasting than they used to be. If you're still using a pop-up toaster (see our pop-up toaster recommendations) and can spare the counter space, you might want to consider switching up.
Our winner, the pricey Breville Smart Oven Pro (available at Amazon for $269.95), is worth the investment. Once you own it, you may never use your full-size oven again. But we also found a great, inexpensive model in the Hamilton Beach Easy Reach for quick melts, convenience foods, and perhaps a couple of baked potatoes.
To help you spend wisely, we chose six highly rated toaster ovens and put them to work toasting, baking, and broiling.
Here are the best toaster ovens in order:
Breville the Smart Oven Pro

Hamilton Beach Easy Reach Oven with Convection

Cuisinart Chef's Convection Toaster Oven

Panasonic FlashXpress Toaster Oven with Double Infrared Heating

Black + Decker 4-Slice Toaster Oven
Updated February 16, 2018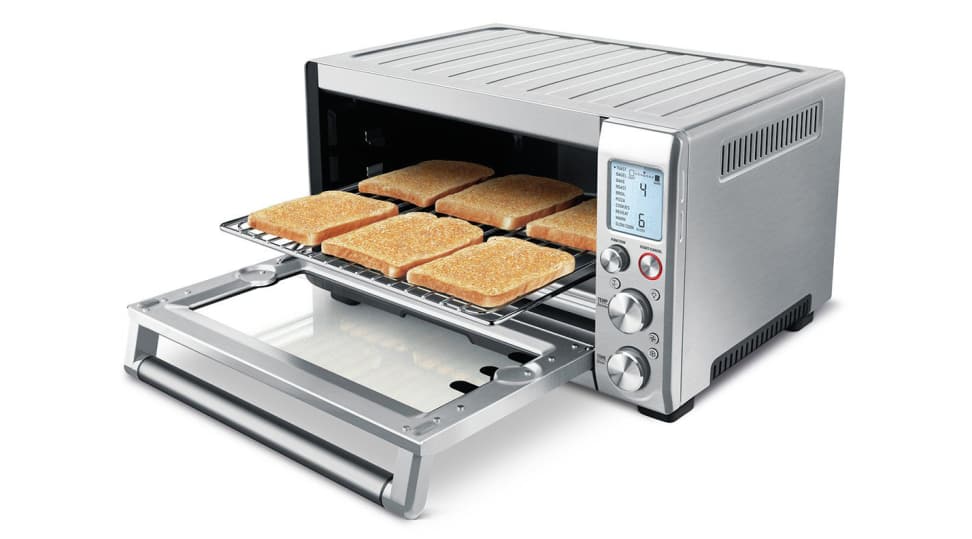 Breville Smart Oven Pro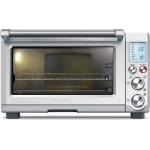 Breville Smart Oven Pro
Best Overall
Here's your rock star of toaster ovens. The beautifully designed Breville Smart Oven Pro gives you a second oven, limited only by its size. The toasting is incredibly even and consistent, aside from the stripes left by the wire rack—common to all toaster ovens. Whether you're heating up a frozen pizza, baking refrigerated flaky biscuits, or broiling chicken breasts, you'll get the same (or better) results as if you used the regular oven. In fact, the Breville was the only toaster oven that broiled chicken breasts so well that they looked like they could have been grilled outdoors. That's something few toaster ovens of any size can do.
The LCD screen presents choices for toast, bagel, bake, roast, broil, pizza, cookies, reheat, warm, and slow cook options. Turn the dial to select the function, temperature, and time. With so many choices, operation is slightly more complicated than usual, but you quickly get the hang of it. The oven automatically preheats when appropriate. During operation the display counts down and there's an interior light so it's easy to keep tabs on your food.
I was skeptical that the Breville could really slow cook, so naturally I had to try it out. Using a slow cooker beef stew recipe on low power for 8 hours, I got incredibly tender meat and veggies in a delicious, velvety sauce. One caveat: I had to scale down the recipe to one pound of meat, enough for 2 to 4 portions. Sadly, the otherwise thorough manual didn't include recipes. Breville, flaunt it if you got it! Add some slow cook recipes, please.
Included with the oven: a heavy porcelain-coated broiling/baking pan and a pizza pan. There are also more versions of the Breville Smart Oven, including smaller sizes, but we can't speak to their cooking prowess, as oven capacity is a factor in performance.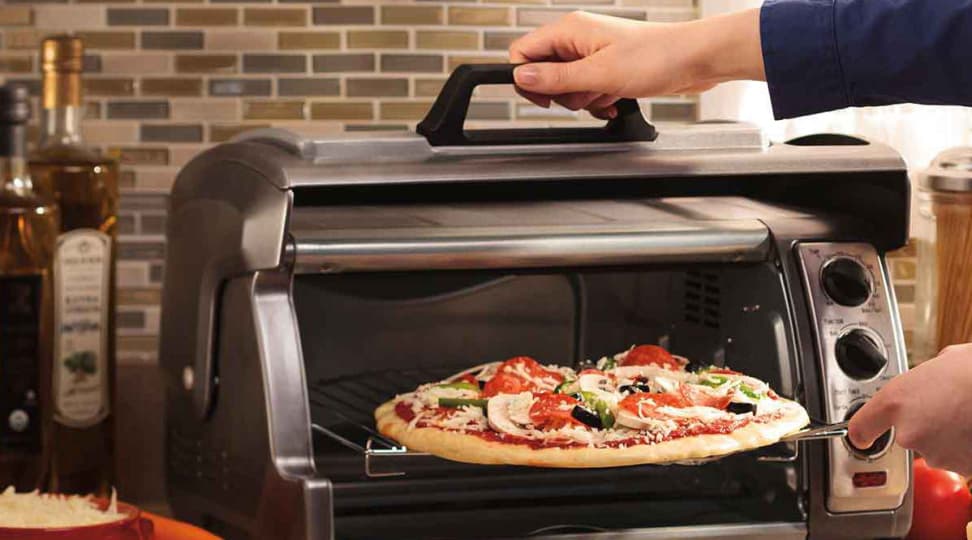 Hamilton Beach 6 Slice Easy Reach Toaster Oven with Convection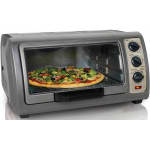 Hamilton Beach 6 Slice Easy Reach Toaster Oven with Convection
Best Value
The Hamilton Beach Easy Reach Oven with Convection won't take up space that more expensive toaster ovens do, while still delivering excellent toasting and baking. In addition, the door rolls back, making it exceptionally easy to put in and take out food. It also means more room on the countertop in front of the oven and a slimmer chance of getting burned. (On all toaster ovens, the door gets very hot to the touch.)
Of all the toaster ovens we tested, it was the fastest at toasting bread, with times fairly similar to a pop-up toaster. Biscuits come out as high, flaky, and golden as if you made them in the oven—and faster, too.
While you can broil in the Hamilton Beach, don't expect much browning. What you also don't get at this price: electronic controls. To operate, you pick a setting and turn a mechanical timer. The times aren't precise but you do see the minutes counting down. While the timer only goes to 30 minutes you can choose the "Stay On" option. If you use it, remember to turn the oven off when your food is done. A lightweight aluminum baking pan is included.
Who am I?
Hi, I'm Sharon Franke, and I've been testing kitchen equipment for the past 30 years.
When I'm not reporting on everything from wooden spoons to high-tech ranges and refrigerators, you can find me cooking in my own kitchen. In another life, I worked for 7 years as a professional chef in New York City restaurants. While I can crank out a huge holiday meal with the best of them, using every tool in my kitchen, these day most family meals involve the toaster oven.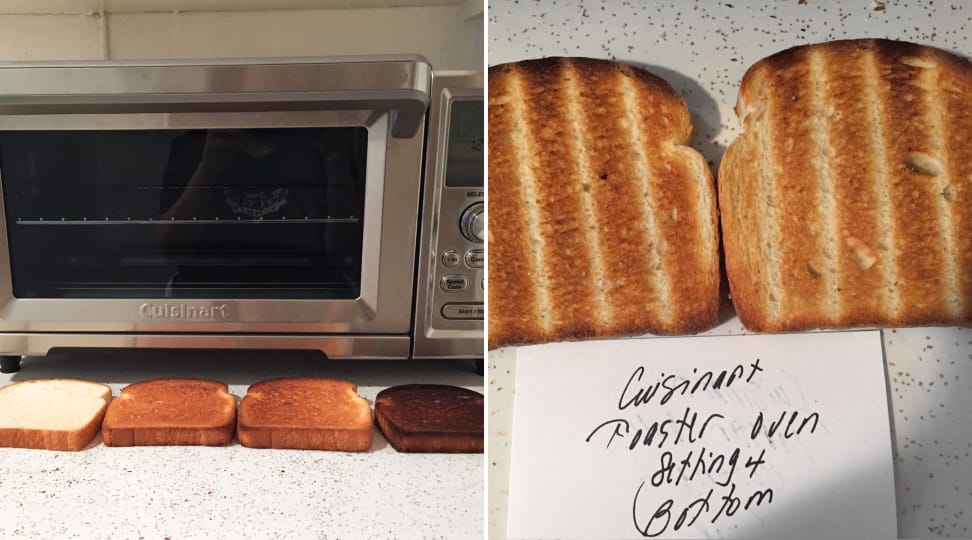 How we tested
I tested five toaster ovens, chosen based on their retail popularity and user reviews. I also tested the Oster Digital French Door Oven at Oster's recommendation, but found it too large to qualify as a toaster oven.
Each toaster oven was rated first on how well it toasts bread. Just like a pop-up toaster, Could it produce a range of shades and toast evenly enough that all 4 sides come out looking the same?
Could it evenly toast bagels?
I baked up frozen pizza, refrigerated biscuits, broiled chicken breasts to see if they came out cooked in the inside and nicely browned on the outside in a reasonable amount of time. The convenience of using the product, including how easy it was to set the controls and the helpfulness of the special features, was also an important part of our ratings. As a toaster oven is one of the biggest "small" kitchen appliances and you'll be using it every day, it'll have pride of place on your countertop. That's why I looked at its size, construction, and design.
---
Other toaster ovens we tested
Cuisinart Chef's Convection Toaster Oven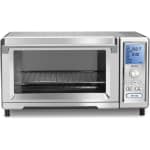 Cuisinart Chef's Convection Toaster Oven
The large, handsome Cuisinart Chef's Convection Toaster Oven is worth the countertop real estate if you're a serious cook. Not only does it turn out exceptionally well-browned toast, but it bakes and broils superbly. It even comes with two racks so you can bake a pair of cake layers at once.
There are more than ten categories on the LCD screen, including one that allows you to program in two different cooking temperatures and times—e.g. when you want to bake a lasagna and then brown it off at the end. Using the "Roast" option I made absolutely perfect roasted potatoes. However so many choices do make programming somewhat confusing. Even with the manual in hand, I was occasionally stumped. Remaining cook time is displayed and there is an oven light, so checking on your food is very easy. Included is a heavyweight porcelain-coated broiling pan and a pizza stone. The manual features a collection of interesting recipes.
Panasonic FlashXpress Toaster Oven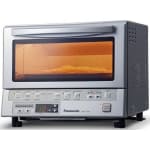 Panasonic FlashXpress Toaster Oven
Much more compact than other toaster ovens, the Panasonic FlashXpress Toaster Oven with Double Infrared Heating has a cult following. Not only does it brown bread super evenly but it does it in record time for a toaster oven or even most pop up toasters. Our only quibble is that our toast was darker than I thought it should be on the light setting. There are preset programs for convenience foods like frozen waffles and pizza and reheating that work quite well.
However, if you're looking to actually cook in your toaster oven, this isn't the one for you. Some common temps like 350°F, 375°F, and 450°F aren't offered. When you're baking you need to experiment with the time and temperature. I never figured out how to bake biscuits that weren't burned outside and raw inside. Broiling isn't an option on this oven. No preheat is required, remaining time is displayed in 30-second increments and there's a very bright interior light. An aluminum baking pan is provided with the oven.
Black & Decker 2-Knob 4-Slice Toaster Oven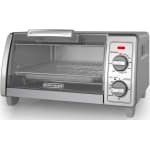 Black & Decker 2-Knob 4-Slice Toaster Oven
If price is your number-one consideration, or if you're really space challenged, the Black + Decker 4-Slice Toaster Oven is for you. Barely bigger than a toaster, you don't get the functionality of larger, pricier models. However, you can still depend on it for toast, baked goods, and broiled foods. To start heating, you turn a mechanical timer. If you're cooking something that needs more than the timer's half hour limit, you can select a stay-on mode. Just be sure to turn it off when cooking's finished.
A small lightweight aluminum baking pan comes with the B + D. When I baked refrigerated biscuits, I was only able to fit six, as opposed to the standard eight that come in a package.