Every kitchen needs a rolling pin, like my favorite J.K. Adams Plain Maple Rolling Dowel (available at Amazon for $15.00). They're useful for all kinds of tasks—rolling out the base for a pizza, flattening cookie dough so you can shape it with cookie cutters, or beating butter into submission before laminating it between soft sheets of pastry. Whether you always make your own pie crust at Thanksgiving or just want to host the occasional pizza night, a rolling pin is a kitchen staple.
Trust me: Once you get a good one, you'll never want it to roll away from you.
But which rolling pins are the absolute best? In order to take my baking game to the next level, I tested seven of the top rolling pins on the market. I made more pizza than could reasonably be consumed in a weekend, cut cookies into snowmen and snowflakes (secret's out—I only own holiday-themed cutters), and made enough danishes to feed an army. By the end, one rolling pin arose victorious, leaving the rest behind in the flour.
Here are the best rolling pins, in order:
J.K. Adams Plain Maple Rolling Dowel
Farberware Classic Wood Rolling Pin
Whetstone Woodenware 23" French Rolling Pin
OXO Good Grips Non-Stick Rolling Pin
Ultra Cuisine Smooth Stainless Steel French Dowel
Fox Run 4050 Marble Rolling Pin and Base
Joseph Joseph Adjustable Rolling Pin With Measuring Rings
Updated March 15, 2018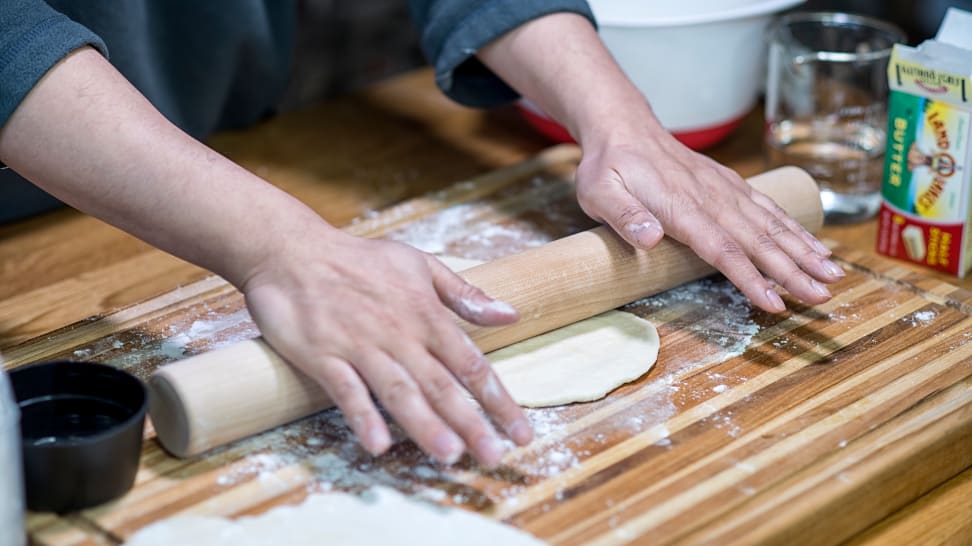 J.K. Adams Plain Maple Rolling Dowel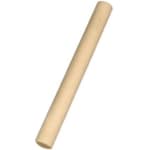 J.K. Adams Plain Maple Rolling Dowel
Best Overall
When they say there's beauty in simplicity, they're talking about this rolling pin. It's really just a sturdy wooden cylinder of a medium-heavy weight, nothing more, nothing less. But during testing, it rolled out perfect dough every time.
The simple design of this rolling pin, combined with its weight, makes it easy to control the amount of pressure you use based on what you need for your dough. For tough dough you can push a bit harder, and for soft dough you can keep a light touch. The long, cylindrical body and lack of handles also means that you'll never cut an edge through your dough the way you sometimes might with smaller, handled rolling pins. This translates to an even, non-lumpy dough that's easy to shape however you want.
To top it off, flour sticks to the pin just fine, which keeps dough from sticking while in use. The pin also cleans up easily. The only downside is that, depending on the size of your kitchen, it might be tough to put this beauty away. Its 19 inches of length simply make it harder to tuck into a drawer.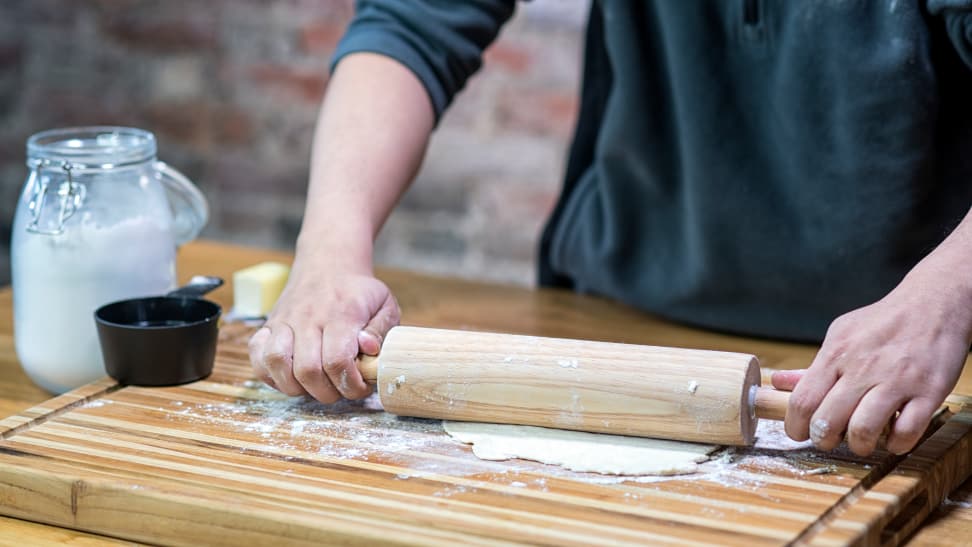 Farberware Classic Wood Rolling Pin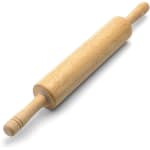 Farberware Classic Wood Rolling Pin
Best Classic Roller
When you picture someone's grandmother making an apple pie from scratch—rolling out the crust and loving laying it over a pie tin—this is the rolling pin you think of. It's an absolute classic. It also works like a charm.
During use, this rolling pin not only felt comfortable in my hands, but the rolling action was smooth and my dough rarely stuck to the floured surface. The easy rolling plus the middling weight of the pin allowed me to achieve an even thickness of dough, despite the generally small rolling surface.
While our winning pin offered almost double the surface space for rolling, this was the most agile of the handled pins and the easiest to maneuver. It's simple to get the exact results you want. For anyone just starting out in the kitchen, this pin is a safe bet. And as a bonus, it should fit easily in any kitchen drawer.
How We Tested
The Tester
Hi, my name is Bethany Kwoka and I'm an avid home baker. Whether I'm making collections of cookies or double-batches of danishes, I can generally be found in the kitchen covered in flour.
I've been baking for years, and have learned over time which equipment works and which gadgets are more gimmicky than great. I want everyone to have as much fun in the kitchen as I do, so I've started testing equipment to help out other home bakers like myself.
The Tests
Since rolling pins are used to flatten anything from tough, sticky dough to soft cookie batter, I picked three different types of dough to put them to the test. The first was a stiff, whole wheat pizza dough. The second was a soft sugar cookie dough. The third was a tricky-yet-classic danish dough. (That last one's a "rough puff" pastry dough, for all you Great British Baking Show fans. Like true puff pastry, you still have to roll it into a rectangle and fold it over numerous times, but you don't have to fully laminate the dough with butter between the layers.)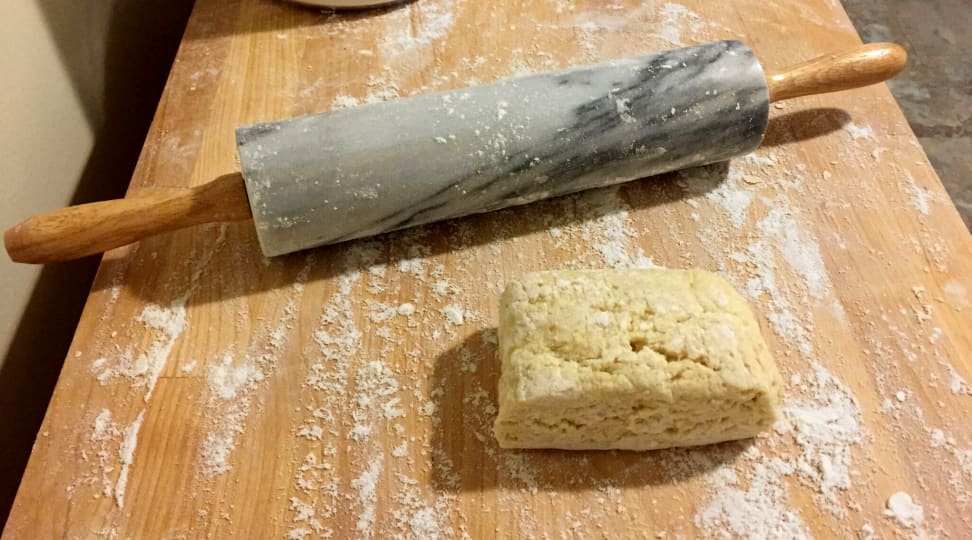 I then judged each pin on how well it rolled out each dough, whether or not I could easily achieve an even layer of dough, how comfortable the pin was to use, whether the dough stuck to the pin, and how easy the thing was to clean. I considered the weight of the pin, whether it was too vigorous or too gentle with the dough, and—when all was said and done—whether or not I could find a logical place in my kitchen to store it.
---
Other Rolling Pins We Tested
Whetstone Woodenware 23" French Rolling Pin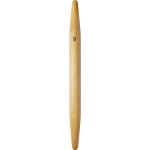 Whetstone Woodenware 23" French Rolling Pin
While I loved the size and tapered edges of this pin, I felt I did not have the skill to wield it effectively. Despite years of practice rolling out dough, I found it tricky to achieve an even thickness.
The tapered edges of this pin essentially act as handles, but also end up distributing pressure in a way you may not have intended. So while this pin was a close runner up, I wouldn't recommend it to those who aren't ready to invest some serious time in learning how to master its ways.
OXO Good Grips Non-Stick Rolling Pin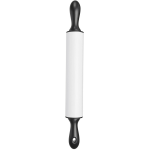 OXO Good Grips Non-Stick Rolling Pin
I was ready to love this non-stick rolling pin, but was ultimately unimpressed.
The positives: The rolling action was smooth, the handles were comfortable, and it was the easiest to clean out of all the rolling pins I tested.
The negatives: Not only was this pin heavier than it needed to be, but the non-stick aspect didn't hold up. Nearly every dough stuck fast, while the flour that would have helped with the sticking sloughed off, utterly useless. The pin is also downright hefty, which makes storage tough.
Ultra Cuisine Smooth Stainless Steel French Dowel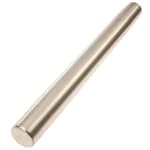 Ultra Cuisine Smooth Stainless Steel French Dowel
This small, lightweight pin would be a great travel rolling pin—if that was even a thing. Unfortunately, it didn't hold a candle to the classic wooden models. Dough stuck tightly to the metal cylinder, and the lack of heft made rolling out anything but the soft cookie dough a laborious chore.
Fox Run 4050 Marble Rolling Pin and Base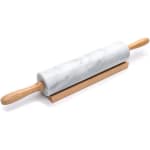 Fox Run 4050 Marble Rolling Pin and Base
Although I love the idea of a marble rolling pin, since the cool marble doesn't transfer heat to a delicate dough, this pin turned out to be a bit more trouble than it was worth. The pin was uncomfortably heavy, making it hard to handle. This meant that not only did I have to worry about rolling my dough too thin, I also had to worry that I would drop the pin—which almost certainly would have broken the pin and/or my foot. Given that the dough also stuck to its marble surface, this rolling pin ended up near the bottom of my list.
Joseph Joseph Adjustable Rolling Pin With Measuring Rings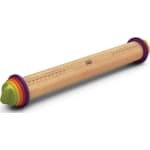 Joseph Joseph Adjustable Rolling Pin With Measuring Rings
The idea of adjustable rings to help home bakers nail their dough thickness is great in theory, but doesn't work very well in practice. While testing, I found the adjustable rings more frustrating than helpful, as it was hard to judge which ring thickness was appropriate. This meant I had to adjust the pin frequently when I should have been rolling the dough. In addition, the end rings mean that this rolling pin has less maneuverability than the others, as you can't slide the pin over a large sheet of dough without cutting a deep groove through it. The end bits also impede easy cleaning.