Believe it or not, the Totally Bamboo Kauai Cutting Board (available at Amazon for $22.79) is one of my top three essential culinary tools. Is a cutting board really that important, you might ask? Yes, yes, and more yes. Just hear me out: you have that flashy chef's knife. You're ready to whip up a meal in your favorite cast iron pan. How do you get started? You prep your ingredients. Yup, in comes the cutting board, and you'll want it to be a good one as you practice your chop, slice, and dice. That means it should last a long time, keep your knife intact, and not slide dangerously around the counter.
There are thousands of cutting boards on the market, and it can be hard to know the good ones from the not-so-much. So we selected ten cutting boards of all styles and sizes and ran them through some pretty rigorous testing. Our favorites include a bamboo cutting board that was a pleasure to work with, a composite board with large grooves to catch liquids from meat or tomatoes, a beautiful wooden block that adds functional style to your kitchen, and an easy-to-clean plastic option for working with raw meats.
Updated September 19, 2017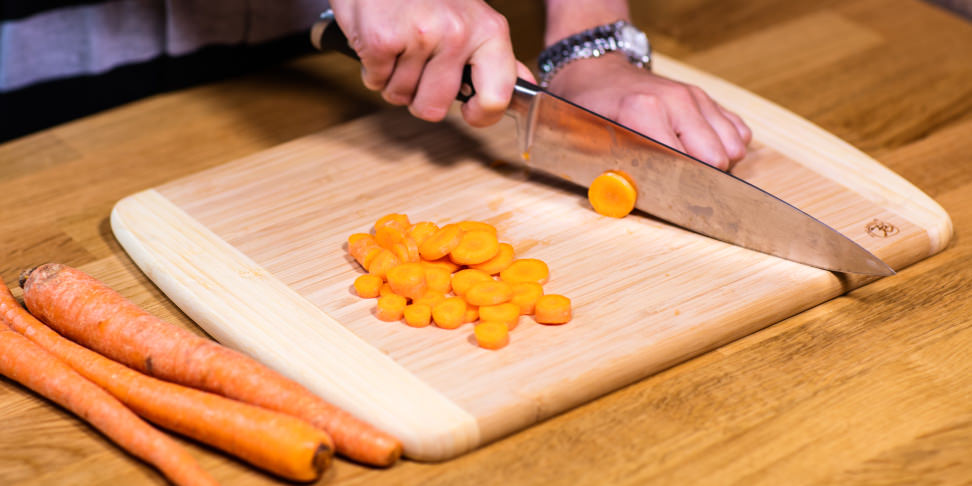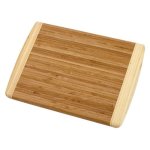 Totally Bamboo Kauai Cutting Board
Best Overall
Best Value
The Totally Bamboo Kauai Cutting Board has the best feel and balance of all the cutting boards we tested. It's heavy enough to pass our stability and balance tests, but light enough to easily maneuver and clean. Plus, its 14.5 x 11.5-inch size makes it a perfect choice for most household cutting tasks.
The Totally Bamboo board also looks beautiful, thanks to a two-tone bamboo color scheme. Bamboo looks like wood, but it isn't. It's a hard grass that grows very quickly (as much as two feet a day!), making it a sustainable, renewable resource. Some say that bamboo is too hard and can dull your knives, but we didn't measure any noticeable dulling during our tests.
Bamboo is a hard grass that grows very quickly (as much as two feet a day), making it a sustainable, renewable resource.
Tweet It
Like wooden cutting boards, bamboo does require regular maintenance to keep the board from splitting over time. Never allow it to sit in a pool of water or take a spin in the dishwasher. If treated regularly with food-grade mineral oil, these cutting boards will last for years. In fact, I've owned this exact board for over five years and it's still as flat and stable as the day I bought it.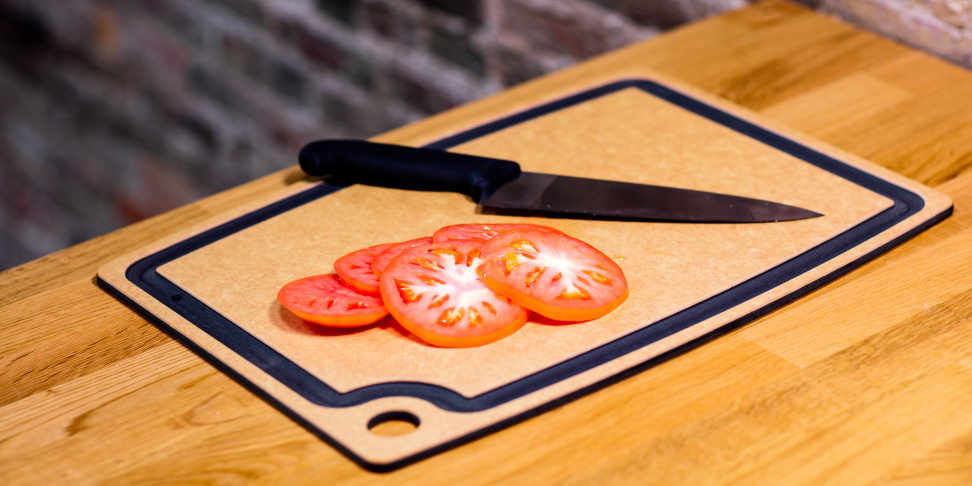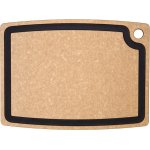 Epicurean Gourmet Series Cutting Board
Best for Juicy Foods
When cutting juicy fruits or resting meat, you might want a cutting board that can catch excess liquids. The Epicurean Gourmet Series Cutting Board is perfect for these situations. Its wide juice grooves hold an impressive amount of liquid—1/2 cup, to be exact, which is more than double the capacity of the similarly-sized Prepworks board.
The Epicurean is lightweight, easy to store, and dishwasher-safe. The composite board is made up of wood fibers and resins pressed together under extreme pressure. Its nonporous surface didn't absorb any liquid during our tests, and it resisted beet juice stains admirably. While the Epicurean is on the expensive side, it didn't warp at all in the dishwasher, and it barely scratched during use.
This composite board is made up of wood fibers and resins pressed together under extreme pressure.
Tweet It
The hard surface was loud when I hacked away with my knives, but I didn't notice any dulling. Our only major problem arose when I attempted to slide chopped onions off the surface of the board and they snagged in the wide groove. Luckily the board is reversible, and the other side is flat.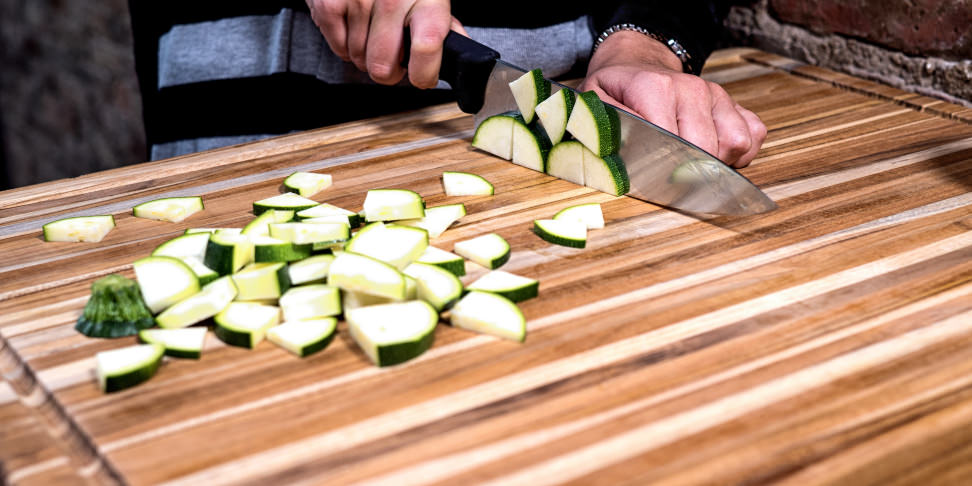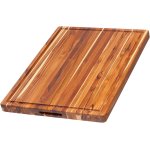 Teakhaus Rectangle Carving Board With Hand Grips
Best Wooden Cutting Board
I have to admit: I sort of fell in love with the Teakhaus Carving Board. If only I had room on my countertop for a butcher block!
The Teakhaus' size and heft makes it more of a specialty board than a catch-all winner. It was too large to fit in my kitchen sink, and its considerable weight made it difficult to move, even using the built-in hand grip. That being said, the wood felt great under my knife. The block didn't move (not even a smidgen) as I enthusiastically chopped and minced. The use of teak, a high-oil wood, fought off moisture better than the other wooden boards. It didn't absorb any water, and it held the largest amount of liquid (2/3 cup) in its groves before spilling over.
Wooden boards are great for your knives and they can last forever when well-cared for
Tweet It
Wooden boards are great for your knives and they can last forever when well-cared-for. They do get nicks and scratches after extended use, but they are self-healing and close over time. Like bamboo boards, wooden boards need to be treated regularly with food-grade mineral oil to keep them in good condition.
For those with the patience to clean this beautiful beast, the Teakhaus is a gorgeous piece and would make a stylish addition to any kitchen with enough counter space.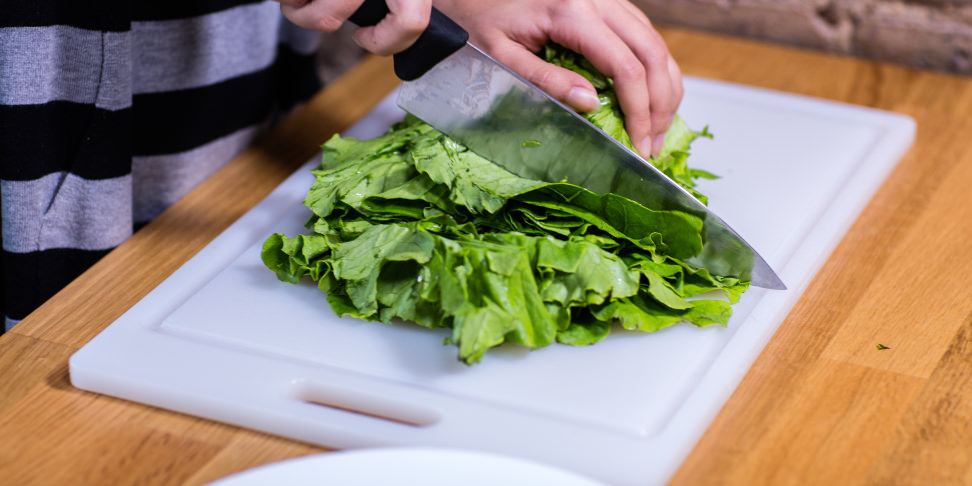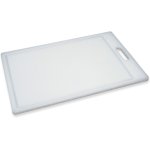 Prepworks by Progressive Cutting Board
Best Plastic Cutting Board
The Prepworks by Progressive Cutting Board is a great value at a bargain price. During testing, the textured surface gripped food nicely, preventing it from sliding around as I chopped. The board adhered well to the countertop, and it stood up to beets without staining. Unlike the other plastic cutting boards in the lineup, it didn't harbor odors from our gooey garlic paste. It's big enough to use for tasks like breaking down large roasts or chickens, and the grooves are deep enough to hold 1/4 cup of liquid.
While it did have some knife marks after extended use, they were fainter than most of the plastic boards. It didn't warp in the dishwasher and—best of all—it doesn't require any special care.
If, like me, you try to have an easy-to-clean plastic board on hand for slicing raw meat, the Prepworks by Progressive board is a great option.
How We Tested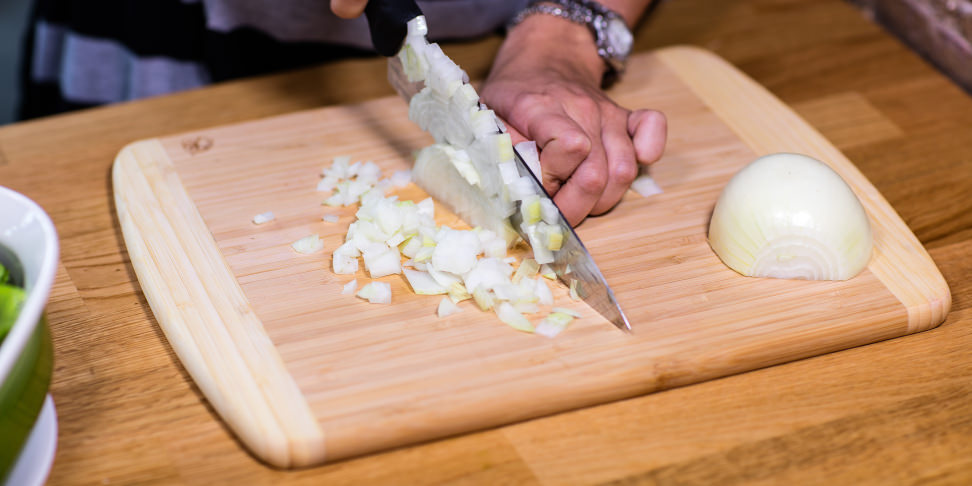 The Tester
Hi, I'm Lindsay Mattison, a trained professional chef and cutting board enthusiast. I'm not joking—my favorite cutting board is on a short list of essentials I'd want if I were ever stranded on a desert island.
In culinary school, I spent a lot of time in front of cutting boards, perfecting my knife skills. I went on to become the chef of a farm-to-table restaurant, which meant I spent hours and hours at the prep table slicing up farm-fresh veggies. It was there that I learned a good cutting board is just as important as your blade. I'd love to use that knowledge to help you find your new favorite cutting board.
The Tests
We tested ten cutting boards of various sizes and materials. Each cutting board was different, but winners needed to share three important characteristics: sturdiness & balance, ease of use, and durability.
It's important that your cutting board stays put as you chop. Boards that shift or slide during use create an unsafe situation for you and that very sharp knife you're wielding. We assessed sturdiness & balance by mincing garlic and chopping onions, checking to see if the board sat flat and still on the counter.
A heavy cutting board may stay put during use, but no one wants a board that's too heavy to carry to the sink for cleaning! We determined ease of use by weighing each board to see if it was easy to pick up and put away. Then we checked if it had enough surface area to handle everyday tasks. Finally, we measured its ability to handle juicy foods by calculating liquid absorption and how much liquid the grooves could hold.
Cutting boards aren't typically pricey, but like anything you spend money on, you're going to want your board to last as long as possible. We tested durability by running boards that were marked as "dishwasher safe" through the dishwasher, checking afterward for warping. We examined how the surface stood up to our sharp knives, foods that tend to stain, and foods that tend to leave unpleasant odors.
We also sharpened our knives before using each cutting board, but found that none of the materials had a noticeable effect on dulling the knives. We didn't, however, test any glass, marble, or ceramic boards, which are notorious for destroying your knife's edge.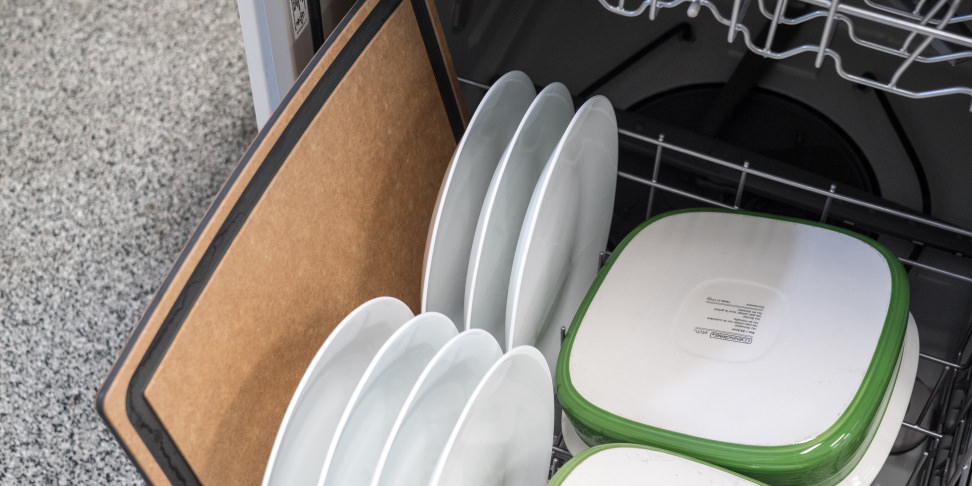 Other Cutting Boards We Tested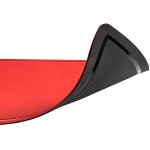 Kitchen Gizmo 2 Sided TPU Anti-Bacterial Cutting Board
I was surprised how much I liked the Kitchen Gizmo 2 Sided TPU Anti-Bacterial Cutting Board. These types of plastic mats are usually very cheap and are often used to keep your work surface sanitary for raw meats, poultry, or fish.
Unlike most mats, the Kitchen Gizmo didn't slip during use. Its surface had a nice texture that gripped the food as I chopped. Juice grooves are available on each side of the reversible mats (although they are too shallow to hold more than 1 tablespoon of liquid before spilling over). Most impressive: of all the cutting boards we tested, this one is the only board that didn't gain a single scratch during testing.
Although we liked the Kitchen Gizmo, it did warp after going through the dishwasher. So, while it's still a great cutting board, it's incorrect in its dishwasher-safe claim. Our recommendation is to hand wash this cutting board if you purchase it.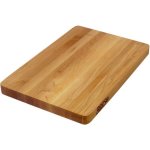 John Boos Chop-N-Slice Maple Wood Reversible Cutting Board
The reversible maple John Boos board is flat on both sides. It's nice and heavy, so it doesn't slip at all while chopping, but that weight makes it slightly difficult to clean. While it performed on par with the other boards, we preferred the teak wood used to construct the Teakhaus board over the maple wood used in this John Boos board. Maple is a dry wood, which felt unpleasant to chop on. In addition, the Boos absorbed more liquid than most of the boards.
This is a great wooden cutting board, but it will require a lot of maintenance and upkeep to prevent that dry maple wood from splitting.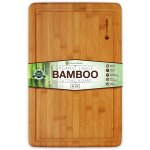 Premium Bamboo Extra Large Bamboo Cutting Board
We didn't like this one as much as the other bamboo board we tested by Totally Bamboo. Its juice grooves are too shallow to hold much liquid. It gripped nicely and had minimal scratching, but the texture of the board itself is rough. The juice grooves are unfinished, which is unpleasant to touch and retained stains from the beets.
Nothing about this board really spoke to us, and there are certainly better cutting boards for the price.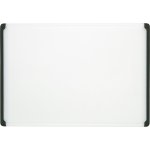 OXO Good Grips Cutting and Carving Board
The Oxo Good Grips Cutting and Carving Board has, well, a good grip. Rubber edges hold the board to the surface as you cut. It's a nice feature because they're located on the side, so the board is still reversible. It looks much more elegant than Prepworks plastic cutting board, but unfortunately, it's too large to fit in most dishwashers. That nullifies its dishwasher-safe claim by default!
The surface was a little slick for our liking, failing to grip the food as we chopped. The board features juice grooves on one side, but they're too shallow to retain any liquid.
There's nothing terrible about it, but there's also nothing that makes it shine—except for its size. If you're looking for a very large, inexpensive cutting board, this is the one.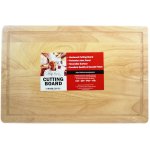 Chef Remi Cutting Board
Avoid
The Chef Remi Cutting Board is made from rubber wood, which is a softer wood than maple or teak. It feels like it has a plastic coating and almost seems too light for a wooden cutting board. It didn't lay flat on the countertop, and it moved around wildly as I cut. It also retained odors from the garlic, even after multiple washings. The icing on the cake: it's a little bit too small to use for most kitchen tasks.
We really can't recommend that you purchase this cutting board.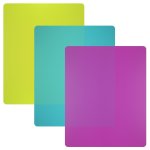 Nicole Home Collection Flexible Plastic Cutting Board Mats
Avoid
Plastic mats are great for keeping your work surface sanitary when cutting fish, meats, or poultry. Some place them directly on the counter, while others place them on top of wooden cutting boards. Unfortunately, the Nicole Home Collection Flexible Plastic Cutting Board Mats were so thin they wouldn't lie still on a counter or a cutting board, even with a towel underneath. They arrived warped and warped further in the dishwasher.
I didn't feel in control or safe while using these cutting board mats.